October, 2022
Providing Hope and Light in Times of Need
Sister Eleanor Wong
Breast Care Nursing Lead, Solis Singapore
Head of Operations, Can-Care Singapore
Breast care nursing is a varied role which can range from breast care awareness for people without breast cancer, to assisting those with a breast cancer diagnosis, and helping patients going through surgery and therapies.
We talked to Sister Eleanor Wong to find out more what her job entails and how she goes the extra mile to provide hope and light to patients in times of need.
Share a little about yourself
I have come a long way since starting off as an assistant nurse in 1978. I became a breast care nurse after working in a surgical ward during my early career days. I am a very hands-on person. I took up a specialised training in oncology nursing where then I had an interest in helping patients diagnosed with breast cancer.
What is your role in Solis and Can-Care?
My roles in Solis and Can-Care are complementary. At Can-Care Singapore, my role is to oversee the day-to-day operations and work with my team to develop programmes and to educate patients about Can-Care's post care products and support services.
At Solis, my role starts with providing post-care services to Solis's patients after their surgery and before or during therapy. I try to show my concern and care by assisting them in whatever way I can, through educational information and even emotional support.
For women who are fearful when they find out that there's a need to wear post-op garments or mastectomy bras post-surgery, and hair wigs during chemotherapy, I would let these breast cancer survivors understand the reason for them. I will also encourage them to take time to digest the knowledge and acceptance of the need.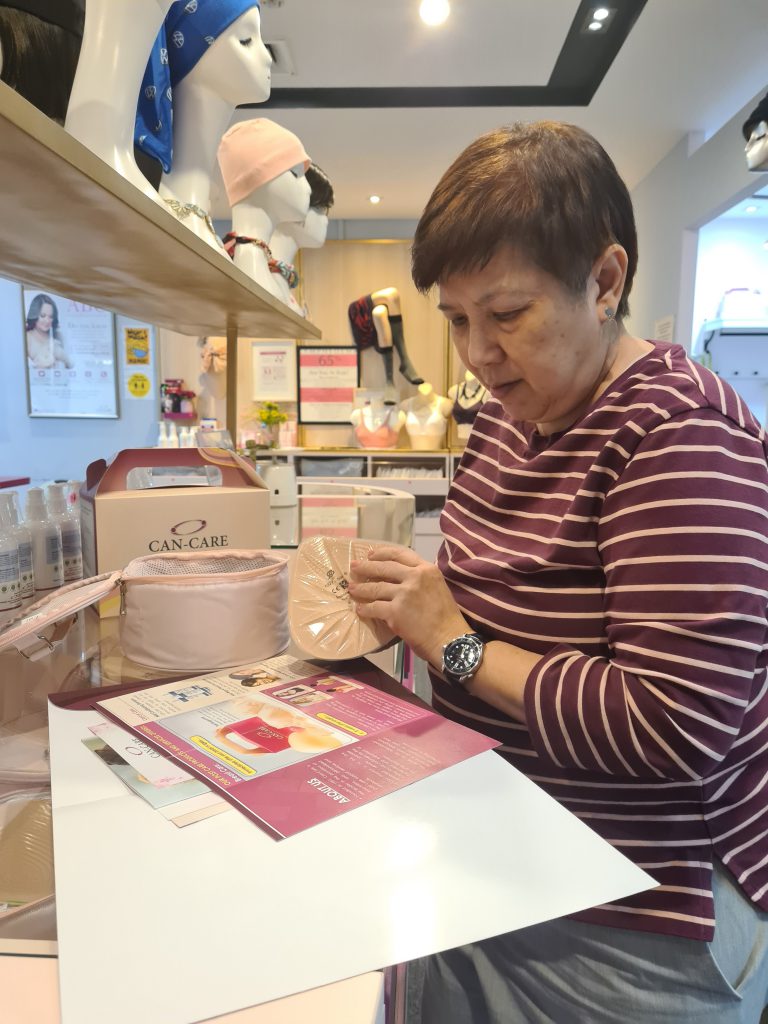 What are some future plans that you have in store?
I will be assisting the doctors in Solis by sharing critical information with patients that will help them make decisions for surgery and treatments. I will provide support not only to patients but also their families.
My plans also include getting a support programme started and also providing Breast Care Nursing education to the Clinic nurses & assistants.
What are some challenges that you face on the job?
This is a job where one needs heavy professional and personal investment in-order to get better at it. As clichéd as it sounds, one really needs 'the heart' to discuss concerns with patients that may also be non-medical in nature. You are a counsellor, a social worker, a dietician and/or a breast care nurse, all in one. It takes a lot of effort on your part to know your patient before you can help them.
What are some words you would like to offer to women during Breast Cancer Awareness Month?
To all women, my advice would be "Be happy, love, laugh, and relax when you can. The happiest people don't have the best of everything. They just make the best of everything they have."
At the same time, let us also not forget to get our breast health checked for our own well-being. Early detection is always the best.