September, 2023
The Clinical Practice Partnership (CPP) model empowers him to take control of his work environment as a doctor
In Vietnam, public healthcare is often overloaded, especially after the Covid-19 pandemic. I was drawn to Hung Viet Cancer Hospital as it not only reduced the burden faced by public hospitals, but also offered the full range of oncology services from examination to palliative care. The entire treatment journey for patients is seamless, reducing wait times while bringing better results.
I was impressed by Hung Viet's dedication to delivering the best oncology services to patients. From investing in new equipment and machines to renovating facilities the better serve patients, Hung Viet has really gone all out in this regard. There are always courses being offered for staff and doctors, giving us an opportunity to constantly hone our skills.
As a doctor, what makes Hung Viet truly stand out to me is the Clinical Practice Partnership (CPP), a model offered by the hospital that enables doctors to take control of their work. The CPP here is very transparent and reliable. I often work closely with the hospital's leadership and was able to develop an open environment as a result.
With this in mind, I am empowered to take the initiative in my work. This is what I like most about working here. Being proactive at work makes me more confident, helps me organise better and makes my work more convenient. Ultimately, the patients are the ones who benefit the most, as I can take better care of them.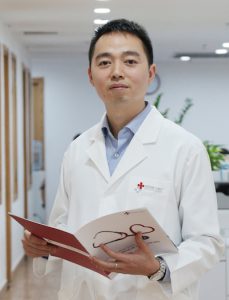 Also, I am constantly in the presence of highly qualified doctors and oncologists. Hung Viet is home to a community of experts that come together to collaborate and share knowledge. This is very helpful to me, a young doctor, when I need to consult with other doctors on difficult cases. The constant sharing and collaboration here have tremendously improved my knowledge and techniques.
To top it all off, I get to enjoy a flexible and convenient working environment at Hung Viet Cancer Hospital. Not only doctors, but even nursing and customer care staff work flexibly to provide the best care for patients. Overall, all these great benefits join together to form the ideal environment for me to serve and better contribute in my field.
Dr Tran Duc Canh,
Gastrointestinal Endoscopist